WWE NXT star Dijak made a comment on Twitter about Brock Lesnar but then quickly deleted it.
Dijak has been a part of WWE for around six years. Right now, he is seen often on NXT.
Dijak tweets about Brock Lesnar
Dijak, not long ago, posted a long message on Twitter to praise Brock Lesnar. He did this because a fan asked him. What's interesting is that he later deleted the message he wrote.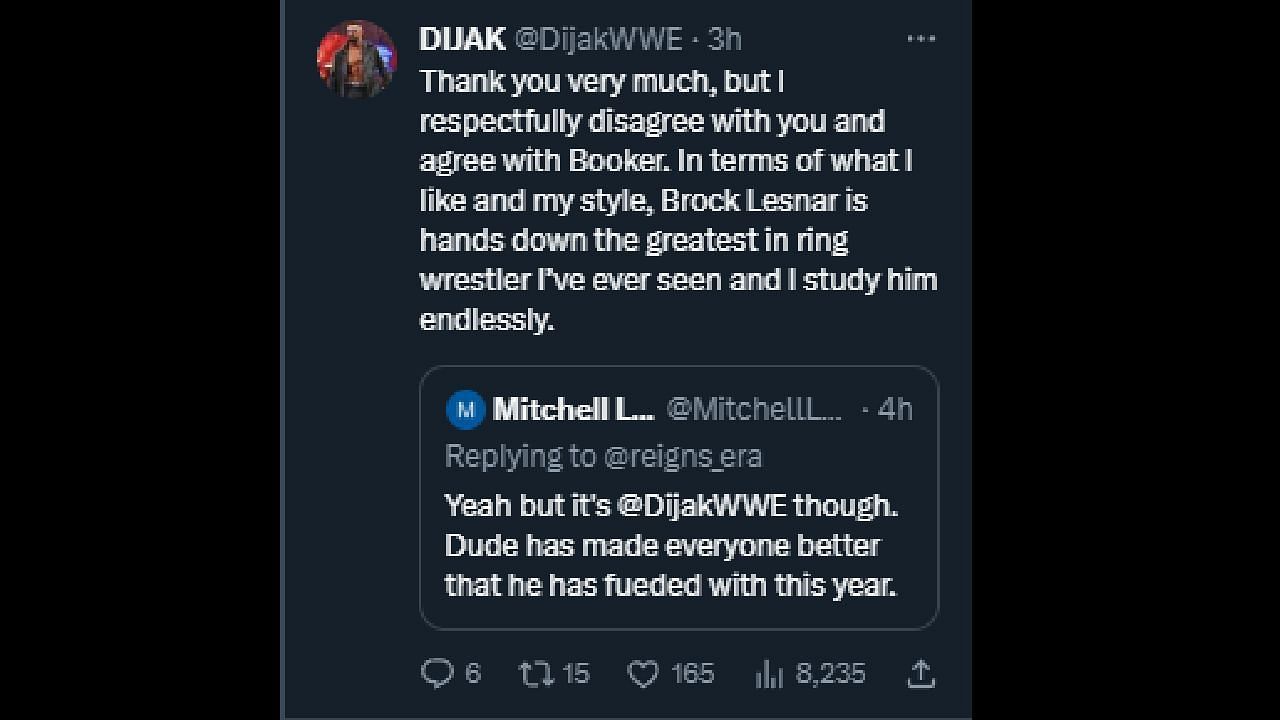 Lesnar ended his feud with Cody Rhodes
Right after WrestleMania 39 this year, Lesnar focused on Cody Rhodes. They had a disagreement that included three fights. Out of these, Rhodes won two matches. The last match happened at SummerSlam 2023, and The American Nightmare won it. After that, Lesnar hugged Cody.
Eric Bischoff, who is in the WWE Hall of Fame, was one of the people who praised Lesnar's performance at SummerSlam.
"Oh God, it was phenomenal. It was phenomenal. Hats off to Brock. First and foremost, Brock did a magnificent job. A believably putting Cody over believably. Yes. Because if, if you, if you just dropped out of one of the UFOs that everybody's talking about now, that evidently are landing every place and been around for a while, if you just came down from wherever you came from and your UFO and you watch that, you watch the interest of that match, you would assume that Brock Lesnar was going to eat Cody Rhodes alive," he said.
Lesnar is 46 years old and still looks very fit. Fans are excited about what he does next.
Read More: Dominik Mysterio Takes A Shot At Female WWE Star And Asks Her To "Get Some Help"